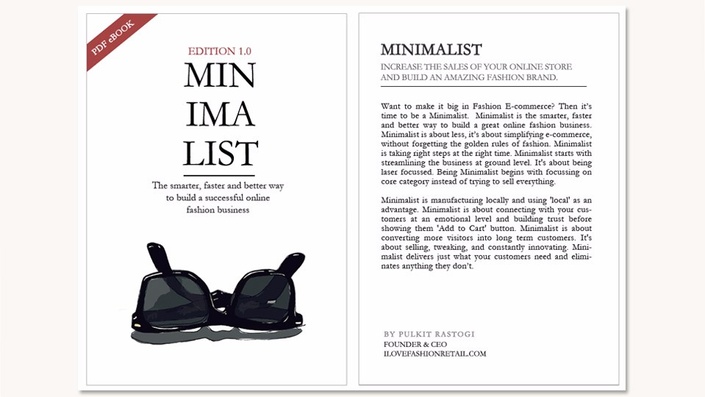 MINIMALIST
GROW YOUR FASHION STARTUP INTO A MULTI-MILLION-DOLLAR ECOMMERCE BUSINESS FROM SCRATCH
THE STEP-BY-STEP, EASY TO IMPLEMENT GUIDE FOR ONLINE FASHION STARTUPS
INCREASE SALES OF YOUR ONLINE STORE AND BUILD A GREAT ONLINE FASHION BRAND
GROW YOUR FASHION STARTUP INTO A MULTI-MILLION-DOLLAR ECOMMERCE BUSINESS FROM SCRATCH
---
Do you want to make it big in Fashion E-commerce, but don't know where to start? Do you have an online store but visitors exit your store without buying? Are you sitting on top of a pile of unsold stock? Are you spending lot of money on your website's design, development, hosting & marketing, but not getting any real return? You and your team work hard every day but your business isn't making any real progress. If yes, then it's time to be a MINIMALIST.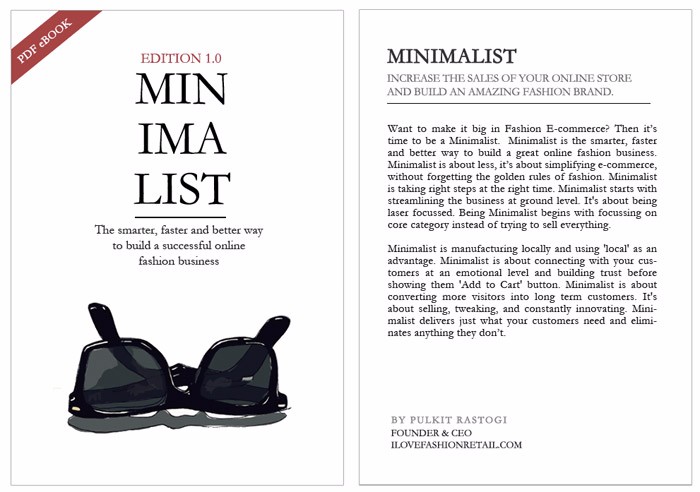 <
MINIMALIST is a business frame work for Online Fashion Businesses that can take you from "no sales" to a "profitable business"
---
You wake up every morning to a screaming alarm, you slap the snooze button, gulp down a cup of coffee and check your emails. Congrats, there is 1 new order. The feeling of joy soon turns into nervousness as you read other emails… a customer just left a nasty comment on your facebook page, there is also a $1500 invoice from your programmer, a credit card bill of $2000 and a product return request from a customer. You start each month hoping that next month will be better, there will be more sales next month… but then nothing changes. Fashion E-commerce can be an overwhelming and harsh business.
Technology, Fashion Designing, Forecasting,ONLINE MARKETING
, HR, Content Production, Logistics, Customer support… there are so many dynamics involved that it's hard to know where to begin. I know because we try to do them for our clients and we're stretched to our limit.
But what if life were different? Imagine there was a frame work that you could follow. A proven business plan that sets your business on the right path.
When you check your emails, there are bills, invoices and may be even a complaint email from a customer… but there are 30 new orders not 1. There is also an email from editor of a major fashion magazine, they want to write about you. There are new twitter notifications every day from fashion bloggers who have already featured your brand & products without you having to pay them a single cent. The traffic on your website is increasing almost automatically and you're acquiring thousands of new potential customers in the form of email subscribers every month.
This isn't just a pipe dream. This isn't just something "other" bigger retailers out there do. You can build a successful online fashion business, even if:
you're still planning your business
you're not a world-famous fashion designer
you're overwhelmed with no idea where to start
you don't have lot of money to invest on a website
With that in mind, I would like to present: MINIMALIST.
---
MINIMALIST
The smarter, faster, easier way to build a successful online fashion business.
MINIMALIST is an ebook guide that shows how you can turn your online boutique into a profitable online business that you can be proud of. It's everything an average, non-marketer & non-technical person needs to know to take his or her fashion business from zero to hero online.
* * *
WHAT IS MINIMALIST?
Minimalist is about doing less and simplifying e-commerce without forgetting the golden rules of fashion. Minimalist is taking right steps at the right time. Minimalist starts with streamlining the business at ground level. It's about being laser focussed. Being Minimalist begins with mastering your core category instead of trying to sell everything. Minimalist empowers you to compete with the biggest brands out there and build a loyal and growing customer base.
Minimalist is manufacturing locally and using 'local' as an advantage. Minimalist is about connecting with your customers at an emotional level and building trust before showing them 'Add to Cart' button. Minimalist is about converting more and more visitors into long term customers. It's about selling, tweaking, and constantly innovating. Minimalist delivers just what your customers need and eliminates anything they don't. It gets you there faster.
* * *
IN THIS EBOOK, YOU WILL LEARN
With MINIMALIST, we will tell you about the rules of the game and how to win at it. We will tell you exactly how to go from small online boutique to a high selling fashion label. You will learn things such as:
Why you should work with smaller, local manufacturers early on?
Why you should develop a core product category instead of trying to sell everything?
How to compete with bigger, established fashion brands out there?
How to dramatically increase yourONLINE MARKETING
ROI?
Why building an e-commerce website doesn't have to be the first step?
Why you should price down one of your products?
Why you should hire people from your target demographics?
How to be consistent with your brand communication?
Why it pays to price your products 30% lower than your hero brand?
How to 'actually' use differentiation marketing?
How to increase perceived value of your brand?
How to connect with your customers at an emotional level?
How to convert more visitors into long term customers?
How to make your brand omni-channel from ground-up?
How to gain momentum and get your stock moving quickly off the shelf?
How to create an invisible sales funnel for the visitors on your website?
…and that's just the tip of the iceberg. There are more than 50 essays about Fashion E-commerce in this ebook. The focus is on the bigger picture. We will tell you where to start and how to pick the right direction.
We won't bog you down with cheap marketing tricks. We'll stick to the established business ideas & philosophies relevant to business of fashion which drive several successful fashion business out there.
* * *
LIST OF ESSAYS INCLUDED IN THE EBOOK
1) Build a solid product
What's your core product?
Less categories, less mess
How much inventory?
Manufacture locally early on
Work with a small manufacturer early on
Your products should seem to belong to same family
2) Build a solid brand to sell your products
What's the big idea?
Build a solid content strategy?
What's your brand's personality?
Show what makes you 'remarkably' different
Associate your brand with certain lifestyle
Tell your story
Consistency is everything
Hire people from your target demographic
3) Position your brand
Sell something exclusive
Price down one of your product
Who is your hero brand?
Mark your average prices up
4) Enhance the perceived value
What's the perceived value of your brand?
Product pictures that convert
The thing about product descriptions in Fashion Ecommerce
Show product packaging to increase the perceived value
The product pictures should match the delivery experience
5) Build a shopping friendly website
Building a website doesn't always have to be the first step
Start Offline
Ignore details early on
White spacing
Don't sell on your home page
Create a clear sales flow
Welcome Page
Home Page
Header
Footer
Product Search
Product Page
Shopping Cart & Checkout
Optimize touchpoints
6) Build trust points
Go beyond security seals
Show honest product reviews
Customer stories
7) Connect with your customers emotionally
Don't sell like you would sell a camera
Emotional Ecommerce
Stay new
Use your about page
8) Build momentum, rotate your inventory
9) Gather data, personalize and improve
Gather data
Chats & Surveys
Net Promoter Score (NPS)
Know your top customers and treat them like VIPs
Conclusion
***
GOING PAST THE MENTAL BLOCK
"The impediment to action advances action. What stands in the way becomes the way." — Marcus Aurelius
There could be 'n' number of reasons why you think you can't be successful in online fashion, for example – The market is too saturated, I am not a fashion designer, Inflation is killing all my margins, I don't have enough money, I don't knowONLINE MARKETING
, I am not technical, I can't find the right team…etc. Lot many times you find yourself stuck, stymied, frustrated by these invisible scripts running in our mind. But it needn't be this way.
The business concepts explained in this guide were followed by the icons of Fashion Ecommerce industry — from Sophia Amoruso (Founder, NastyGal.com) to Angela Ahrendts (Past CEO, Burberry.com) to James Lillis (Founder, Blackmilkclothing.com) to Susan Koger (Co-founder, Modcloth.com) to Andy Dunn (Founder, Bonobos.com). Faced with impossible situations, they found the astounding triumphs we all seek but they turned obstacles into opportunities and eventually became successful.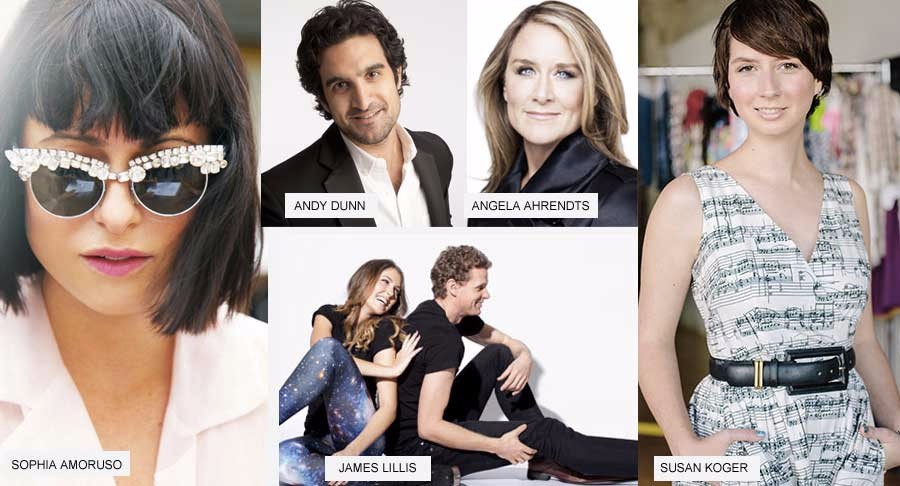 These retailers are selling clothing directly to the consumer at higher gross margins, without fixed retail costs and above all – low customer acquisition cost.
They all share a common trait; they are tech savvy non-technicals and understand how to leverage the 'new' internet and especially social media as a marketing & distribution channel. They sell more than just clothes, they sell an experience. Instead of trying to sell everything to everyone on the internet, they mastered a core product category and build a profitable and sustainable business around it.
You're an entrepreneur, fashion designer, blogger, fashion enthusiast, online marketer working on a big fashion e-commerce idea. You realize that standard e-commerce & ONLINE MARKETING rules don't apply to your business. And you want to build more than just an average online store…a profitable and sustainable fashion business. Or maybe you're not yet on board with e-commerce or fashion retail business, but you're eager to learn more and embark on the fashion journey. If this sounds like you, then this guide is for you..And yes…especially if you want to increase the sales of your online store by couple hundred thousand or even millions, with a more established approach that works.
The principles and frame work mentioned in the MINIMALIST can be applied to the ecommerce side of the following industries within Fashion, including – Apparel, Jewelry, Accessories, Eyewear, Beauty, Skincare and many other Luxury categories of fashion.

Your Instructor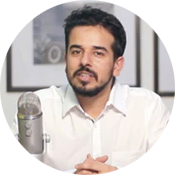 Pulkit Rastogi is the CEO & Founder at I Love Fashion Retail, an Ecommerce Agency for Fashion Retailers. Pulkit's work has been cited by Forbes, Moz, Fairchild and more.
Course Curriculum
First Section
Available in days
days after you enroll
Frequently Asked Questions
When does the course start and finish?
The course starts now and never ends! It is a completely self-paced online course - you decide when you start and when you finish.
How long do I have access to the course?
How does lifetime access sound? After enrolling, you have unlimited access to this course for as long as you like - across any and all devices you own.
What if I am unhappy with the course?
We would never want you to be unhappy! If you are unsatisfied with your purchase, contact us in the first 30 days and we will give you a full refund.