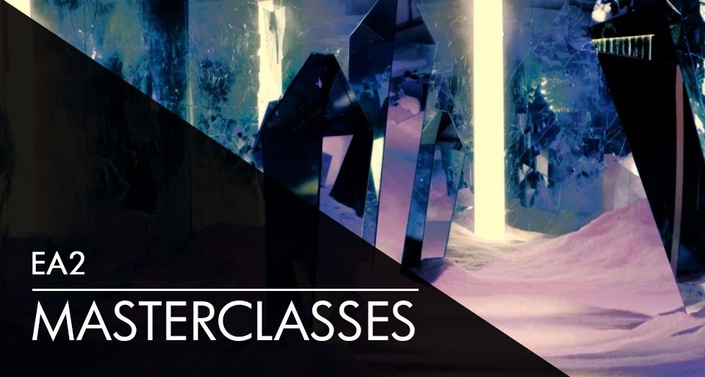 EA2 MasterClasses
Acquire the Knowledge & Skills you need to Rapidly Grow your Online Fashion Brand
Enroll in Course
Do you want to start an online fashion store, but don't know where to start? Or, do you have an online store but visitors exit your store without buying? Are you sitting on top of a pile of unsold stock? Are you spending too much money on your website's design, development & marketing, without significant ROI. You and your team work hard every day but your business isn't making any real progress. If yes, EA2 Masterclass is for you.
---
Who are we?
Brought to you by I Love Fashion Retail, we are a one of its kind 'Fashion focused' Ecommerce learning platform for Startups offering practical crash courses for fashion startups to acquire the knowledge and skills to grow their brand into a profitable ecommerce business. We will tell you what it takes to build a 'popular' online fashion brand in the current ecommerce climate.
Our mission is to bring affordable ecommerce, marketing & business education to fashion startups to help them achieve their dreams and make their mark in the fashion industry. Learn all the fundamentals to advanced techniques needed to build a successful online fashion business. Learn how to select technology, how to drive traffic from Google, how to drive traffic from social media, how to acquire customers, how to position your brand and much more.
We offer Specialised courses to Fashion Retailers in Brand Building, Digital Marketing, Business Management & more.

How it Works?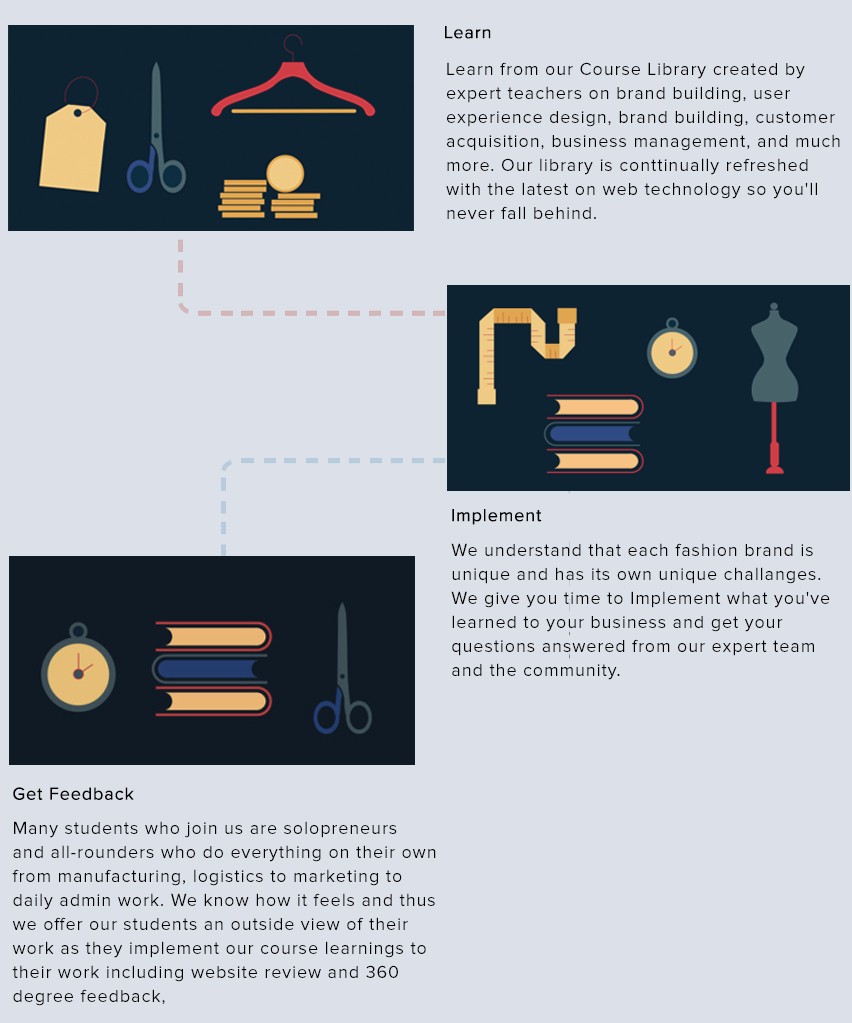 Some of the awesome stuff you will learn
Marketing Blueprint
Do you own an online fashion store but don't know how to build traffic? Are you spending money on online marketing, but not getting any real returns? If yes, this course can help you.
It's a crash course in online marketing that teaches you how to build traffic to an online fashion website. It's everything an average, non-marketer & non-technical person needs to know to build traffic and take his or her fashion business from zero to hero.
- Marketing Methodology for fashion retailers (2:32)
- Laying down the foundation for Google (26:03)
- Social Media Set-Up (7:26)
- Set up your Influencer Markerting Campaign (32:43)
- Start building your email list (13:12)
- How to build a community around your brand (19:46)
- Marketing your business on a Zero Marketing budget? (12:39)
- Marketing beyond facebook - uncommon channels (28:00)
- How to launch your brand? (21:37)
- Bonus Workshop: Launching a Profitable Online Fashion Store (55:09)
---
Brand Positioning
Are you wondering why customers are leaving your website without buying? You have done everything to make your website user friendly, aesthetically pleasing but visitors are still refusing to buy? If yes, there are big chances the problem is not in your website's designing, usability, architecture, etc, but actually the positioning of your brand. In simple words, visitors landing on your online store are unable to relate to you and are finding you irrelevant. This course is all about learning how to communicate your brand to your customers across all your online touch points and becoming not only 'relevant' to them but also making them 'feel' like buying from you.
- What you need to know about your customers? (34:09)
- How to differentiate your brand in a way that matters to your customers? (9:32)
- How to communicate your brand's differentiation & 
value propositions on various customer touch points? (17:45)
- Newbie to Hot: Build Demand & Trust (14:04)
- Influencer Marketing on a shoestring budget
- The art of finding influencers (19:54)
- Crafting a compelling pitch (5:47)
- Getting a Yes! (20:04)
- Measuring goals / final thoughts (15:48)
---
Instagram Marketing
Instagram is the number one conversation platform for fashion providing many opportunities for brands to make a lasting impression on an audience hungry for content. What can be learned from brands winning the Instagram fashion game? How can you drive more engagement? We will also cover in this course how to create an emotional bond with your audience, creating a content and sales funnel strategy, hashtag categories, do's and dont's when advertising on Instagram and top selling platforms.
- The Anatomy of a Pro Instagram Account (26:36)
- Developing a content and sales funnel strategy (33:02)
- Growing your audience & driving traffic (17:58)
- Selling on Instagram + Final Thoughts
---
MINIMALIST
MINIMALIST is an ebook guide that shows how you can turn your online boutique into a profitable online business that you can be proud of. It's everything an average, non-marketer & non-technical person needs to know to take his or her fashion business from zero to hero online.
- Why you should work with smaller, local manufacturers early on?
- Why you should develop a core product category instead of trying to sell everything?
- How to compete with bigger, established fashion brands out there?
- How to dramatically increase your ONLINE MARKETING ROI?
- Why building an e-commerce website doesn't have to be the first step?
- Why you should price down one of your products?
- Why you should hire people from your target demographics?
- How to be consistent with your brand communication?
- Why it pays to price your products 30% lower than your hero brand?
- How to 'actually' use differentiation marketing?
- How to increase perceived value of your brand?
- How to connect with your customers at an emotional level?
- How to convert more visitors into long term customers?
- How to make your brand omni-channel from ground-up?
- How to gain momentum and get your stock moving quickly off the shelf?
- How to create an invisible sales funnel for the visitors on your website?
And that's just tip on the ice berg. We cover a wide range of fundamental to advanced topics for you as our library is continually refreshed with the latest on fashion ecommerce so you'll never fall behind.

Your Instructors:
Pulkit Rastogi, Founder & CEO at I Love Fashion Retail
Luna Vega, from LunaVega.net
Our experts are featured at

We will tell you how you can directly sell to your target customers at higher gross margins, without fixed retail costs and above all – low customer acquisition cost. We will teach you how you can be the 'tech savvy - non-technical' and understand how to leverage latest technology platforms, especially social media to create an effective marketing & distribution channel. You will learn how you can sell more than just clothes, but a compelling brand experience. You will learn how instead of trying to sell everything to everyone on the internet, you can dominate smaller, untapped segments of the market by mastering a core product category and build a profitable and sustainable business around it.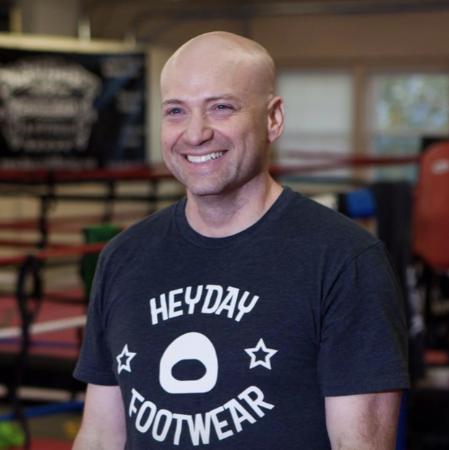 Ecommerce Academy has helped me tremendously. Before I took the course I spent most of my time obsessing over the perfect Instagram photos. I wasn't thinking about sales funnels or what to offer in order to get customers to opt-in. Now, I have a marketing strategy set up and I'm on track to double my sales this year.
Darin Hager, Founder of Heyday Footwear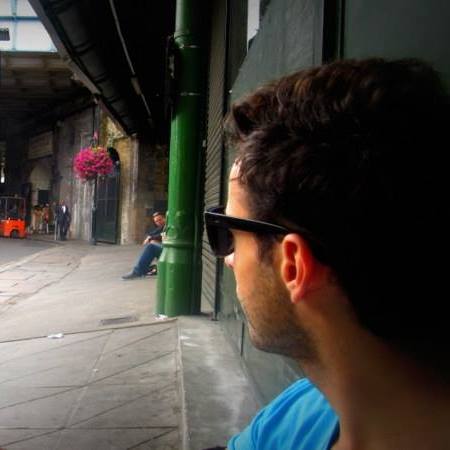 Luna and Pulkit gave me concrete information on how to refine my online branding and marketing strategy. Most of the other programs I looked in to were giving out generic advice, but Ecommerce Academy was full of steps that broke down the process for me. I would definitely recommend this to other fashion entrepreneurs who are struggling to get off the ground.
Antonio Da Motta


Frequently Asked Questions
When does the course start and finish?
The course starts now and never ends! It is a completely self-paced online course - you decide when you start and when you finish.
What if I am unhappy with the course?
We would never want you to be unhappy! If you are unsatisfied with your purchase, contact us in the first 60 days and we will give you a full refund.
Satisfaction Guarantee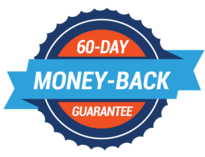 TRY ECOMMERCEACADEMY.CO FOR A FULL 60-DAYS, 100% RISK-FREE
"We offer a satisfaction guarantee. If you make the effort and for any unlikely reason EcommerceAcademy doesn't lives up to your expectations, drop us an email at [email protected] and you will be refunded up to 60 days from your date of purchase.